Have you ever wondered what millionaires do to become so successful?
I used to wonder the same thing when I was growing up. I always thought that I would have to become a rapper or a basketball player in order to achieve that millionaire status. I'm glad that I found out that it wasn't the only way. I have did lots of research and purchased many books to figure out what the success blueprint is. One of the best sources to get this success blueprint is to get it straight from the millionaire's mouth.
I joined a community a few months ago and I ran across one of the leaders in the company.
His name is Vick Strizheus.
Vick Strizheus is the top income earner with Empower Network. He made over $700,000 in his first 30 days with the company. Just a few weeks ago, at Empower Network's "Don't Be A Wussy" event in Denver, CO he was initiated into the Millionaire's Club where he received a nice diamond ring for the accomplishment.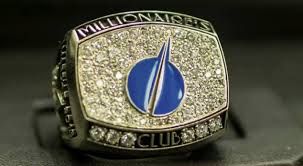 Great stuff to me!
I was just listening to an Empower Network Inner Circle audio and he gave a few success secrets or should I say a "success blueprint."
The Success Blueprint
1. Know where you are going
You need to know exactly what you want and what you want to do in life. Remember in my recent blog post, I talked about writing the vision. It should be very detailed and specific.
2. Write it down and read it 2 times a day
You should write this detailed dream or vision down. Like what was said before, it should be detailed and specific. It should be turned into a dream statement and you should read it 2 times a day. The recommendation is to read it in the morning and at night. It's great to read your dream statement every day so that you will stay focused on where you want to go. It will develop within you a drive and determination to succeed.
3. TAKE MASSIVE ACTION!
These tips will not work until you actually apply them with a purpose. You should continue to work on it until your vision or dream is accomplished.
Here are a few things to keep in mind when taking massive action.
1. Believe that what you have written down is possible
You should believe that it is possible for you. If you don't believe it, there is no point in going for it. To create your belief, you should continuously read your dream statement
2. Act like the person you want to become
This goes back to my blog post on BE-DO-HAVE. This is a part of being.
About the person you want to become, consider these points…
How does this person you want to become talk?
How does this person you want to become walk?
How does this person you want to become think?
You should study the role! Also you should do your actions in your head before your body does it.
3. Claim your territory
You should be yourself and not like everyone else. Tell your stories and your testimonies so that people can make a connection with you and love you for who you are.
4. Use the language of success
When it comes to this, it is all about how you think and how you talk.
What to do continuously in this success blueprint
1. Read daily
You should read something inspiring or informational everyday. This could be books like
The Holy Bible
Success books (personal development)
Finance books (investing, personal finance, etc.)
2. Listen to audio daily
This could be seminars, audio books, or better yet, Empower Network's "Inner Circle."
This will keep you mind focused and it will flush out all the junk that you grew up learning.
3. Associate with other successful people
While listening to audios and reading books, you should get around other like minded people. You should also develop relationships with people who are where you want to be.
Stay away from negative people!!!
Don't take advice from anyone that is more messed up than you are
If they are broke, don't listen to them!
I hope this
success blueprint

will be a big help to you on your journey.
Please don't forget to comment, like, and share this post!
Make it a great day!

Jay The Analyst
Work With Me – (Click Here)
PS: Learn how to leverage Facebook ads for just $2.95 with Facebook Viral